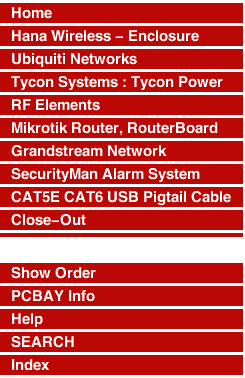 HW-EN2N - Die Cast Hinged Outdoor Enclosure 2 Port
New in Box.




Product Description:
Outdoor Die Cast Weatherproof Hinged Enclosure.
Features


3 bottom holes
2 N Female holes
1 Ethernet hole
9.5" x 7.5" x 3.5" interior space
Internal mounting plate
Pole mounts
** Includes RJ45-ECS **


Fits most RouterBoards exluding RB/600. Pigtails not included.


*Please confirm board prior to purchase*








Sales Assistance: 909-548-7787 (9:30-6 Pacific, M-F)

Phone-Orders and Will-Calls are welcome! Call us before you arrive in-store!


Holiday Dec.24 & 31 Office are closed.
For UPS Holiday delivery schedule, visit US Holiday Operations Schedule


All items carry a 14-day money back guarantee (15% re-stocking and without shipping charge)
For OPENED Software Package with manufacturer guarantee, the customer should contact the manufacturer directly for service or exchange
All trademarks, registered trademarks, and names are the property of their respective owners.