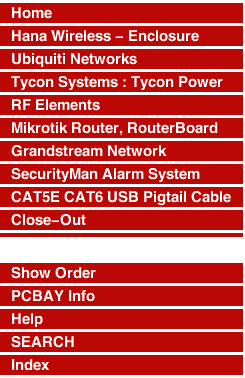 RocketM365 Ubiquiti 802.11N MIMO 3.65 Ghz Rocket AP
Hi Power 2X2 AirMax BaseStation, New in Retail Box



Product Description:
WIRELESS AP, OUTDOOR 3.65GHz 300mW
ROCKET M365: 3.65GHz Hi Power 2x2 MIMO AirMax TDMA BaseStation


The Rocket is a rugged, hi-power, very linear 2x2 MIMO radio with enhanced receiver performance. It features incredible range performance (50+km) and breakthrough speed (150+Mbps real TCPI/IP). The device was specifically designed for outdoor PtP bridging and PTMP Airmax base-station applications.


Rocket M and AirMax BaseStation/Rocket Antennas have been designed to seamlessly work together. Installing Rocket M on AirMax BaseStation/Rocket Antennas requires no special tools--you simply snap it into place with the mount provided with the antennas.







Sales Assistance: 909-548-7787 (9:30-6 Pacific, M-F)

Phone-Orders and Will-Calls are welcome! Call us before you arrive in-store!


Holiday Dec.24 & 31 Office are closed.
For UPS Holiday delivery schedule, visit US Holiday Operations Schedule


All items carry a 14-day money back guarantee (15% re-stocking and without shipping charge)
For OPENED Software Package with manufacturer guarantee, the customer should contact the manufacturer directly for service or exchange
All trademarks, registered trademarks, and names are the property of their respective owners.